Our School Uniform
All our school uniform is available to buy at local supermarkets and chain stores. If you do wish to purchase our logo sweatshirts/cardigans, they are available from our online suppliers.  Our PFA also hold regular second hand uniform sales.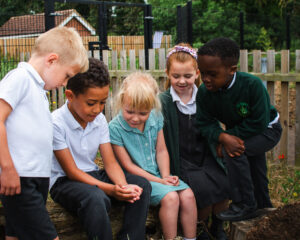 School sweatshirt/cardigan
Pupils from Reception upwards wear a green school sweatshirt/cardigan.  Sweatshirts/cardigans with The Pines logo are available to purchase online.  We have samples for sizing at the office.
White polo shirt/shirt/blouse
Skirt/Dresses/Trousers/Shorts
All skirts, pinafore dresses, trousers and shorts should be charcoal grey colour.
Summer dresses should be green striped or green checked fabric.
Black School Shoes 
No trainers please.
PE Kit in draw string bag
Pupils are expected to change clothes and shoes for PE.
A white T-shirt, navy shorts/navy cycle shorts and black plimsolls will be required. No branded football kits or t-shirts please.  Please see our jewellery policy for guidance on piercings.
For health and safety reasons the only jewellery allowed is small ear studs.
Due to the size of the cloakroom areas, we can only allow draw string bags containing PE kit (which should remain in school for the half term).  Ruck sacks are not required.